Google Pay is a convenient way of using credit cards and debit cards online without sharing sensitive card information with the recipient of the money. If you don´t like the idea of sending private card information to a multitude of vendors online, Google Pay might be an interesting option for you. You share your information with Google Pay, and then use Google Pay to verify your transactions. Google Pay can also be used to verify transactions in brick-and-mortar shops where the card terminal accepts Google Pay verification.
Google Pay is still a fairly new thing. It emerged from Google Wallet and Android Pay in 2018.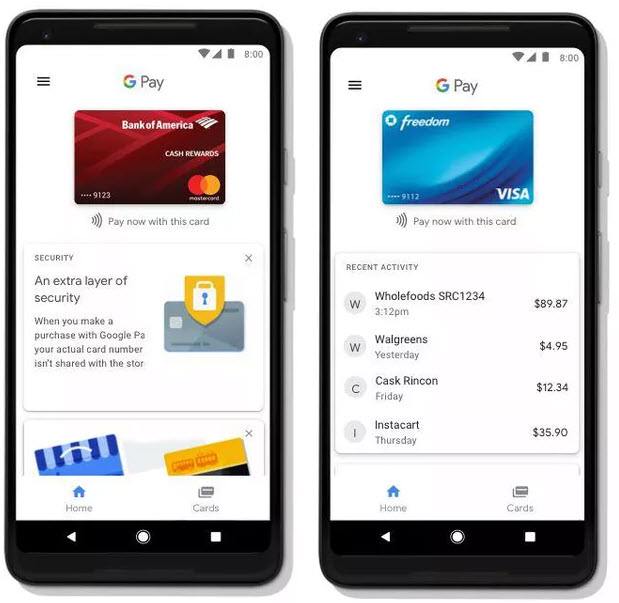 Can I use Google Pay in online casinos?
Yes, there are online casinos that accept Google Pay. Voodoo Dreams Casino, Gate 777 Casino and ATHI Games are three examples. Still, Google Pay is much less commonly accepted than older similar services such as PayPal, Neteller and Skrill which can be linked to credit cards just like Google Pay.
Important: Google Pay can only be used to deposit money into your casino account. When it is time to withdraw, you can not use Google Pay. Since Google Pay is not a stand-alone transaction method, this is typically not a problem for the average user, since that person will also have a credit card or debit card to make the withdrawal to.
To make a deposit using Google Pay, go to the banking section of the online casino. You must be logged into your casino account. Select DEPOSIT and then select Google Pay as the deposit method. Then, follow the on-screen instructions. You will be asked to enter the amount of money, and maybe also confirm currency. You will also need to select one of the payment methods that you have linked to your Google Pay, such as your credit card. Then, confirm the transaction using an accepted Google Pay method, such as security code or Touch-ID.
Can Google Pay only be used with Android phones?
No, but that is a common misconception. In reality, Google Pay can be used on normal computers, Android mobile devices and iOS mobile devices.
Google Pay mobile apps are available for both Android smartphones and tablets and for iOS smartphones and tablets. For Android devices, download the app from the Google Play store. For iOS devices, download the app from the Apple App Store. Once you have downloaded the app, open it and follow the on-screen instructions to get started using Google Pay.
On a normal computer, go to pay.google.com, and follow the on-screen instructions.
Google Account
If you don´t already have a Google Account, you will need to create one before you can use Google Pay. Creating and using a Google Account is free.
Examples of supported networks
Visa / Visa Debit / Visa electron
Mastercard / Debit Mastercard
Maestro
American Express
Discover
Diners Club
JCB
PayPal, but so far only in the USA and Germany
EFTPOS in Australia
Interac in Canada
Nanaco, Edy, Suica, Waon, QUICPay and iD in Japan
Unified Payments Interface / Rupay in India
Conclusion
Google Pay is a convenient way of confirming transactions online or offline, but it is not a stand-alone transaction method. Still, many users like that they can add several cards to the Google Pay and use the same verification for all of them, instead of using various methods. Google Pay is also used by internet users who do not wish to share sensitive card information with every e-vendor they shop from or online gambling site they deposit to.
For online casino players, it is a drawback that Google Pay can not be used to carry out withdrawals. It is also negative that so few online casinos accept Google Pay.